The Keystone Jazz Collective

is a collaboration of jazz artists, based in the state of Pennsylvania, coming together to bring to light the historical and contemporary contributions to jazz music by Pennsylvanians. Pennsylvania has birthed and nurtured many composers, musicians and bandleaders. These artists play a significant role in America's jazz history. The Keystone Collective is a state wide, multi-generational ensemble that honors the past, plays in the present and creates for the future.
The mission of the Keystone Jazz Collective is to entertain, enrich and educate through performances and workshops throughout the state and region.
Bassist/composer Nimrod Speaks began playing at the age of 14. After years of study completing his Masters degree in Jazz Studies from Rutgers University, Speaks gained many opportunities to perform with prolific artists like Bootsie Barnes, Allan Harris, and Tim Warfield. He has performed at some of the most prestigious venues and festivals around the world including the Kimmel Center for the Performing Arts in Philadelphia, The Blue Note in New York, the Brighten Alternative Jazz Festival in the UK and the Atlanta Jazz Festival. He currently teaches at Eastern University. 
Speaks recently toured with Postmodern Jukebox and currently tours with Allan Harris, local Philadelphia area artists and national groups.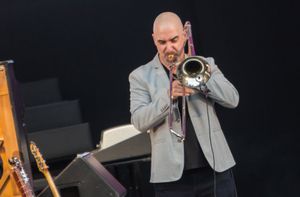 Reggie Watkins - A long time Pittsburgh PA resident the trombonist, pianist, arranger and composer has released three recordings as leader and has been featured on many others. From 1999 to 2006 he served as trombonist and musical director for trumpeter Maynard Ferguson and then with singer-songwriter Jason Mraz from 2008 to 2013. In 2003 he was chosen as a semi-finalist in the "Thelonious Monk International Jazz Competition." He has performed and recorded with many great artists from various genres including  Aretha Franklin, Dave Matthews, Dianne Shuur, Warren Haynes, Beverley Knight, Jose Feliciano, Willie Nelson, The Backstreet Boys, Engelbert Humperdinck, Ariana Grande, Dumpstaphunk, Arturo Sandoval, Trombone Shorty, The Temptations and The O'Jays. Currently, in addition to leading the Reggie Watkins Trio, he is also a member of the Grammy nominated Orrin Evans' Captain Black Big Band, The Pittsburgh Jazz Orchestra, Scott Bradley's Postmodern Jukebox and a founding member of The Keystone Jazz Collective and Steeltown Horns. Reggie plays a Michael Rath trombone and David Monette mouthpieces.
Luke Carlos O'Reilly is an award winning pianist who has always had a passion for music. He is influenced by Jazz, Soul, R&B, Gospel, Latin Jazz, Classical and many other styles of music. After a Boston upbringing, he moved to Philadelphia, Pennsylvania to attend Esther Boyer School of Music at Temple University on an academic and music scholarship. While living in Philadelphia he has toured with Curtis Fuller, Bobby Watson, Randy Brecker, Wycliffe Gordon, Dave Valentin, Billy Paul, Slide Hampton, Nicholas Payton, Fred Wesley, Red Holloway, Steve Turre, Chico Freeman, Roy Ayers, Musiq Soulchild, Bilal, Carol Riddick, K'naan and many others. 
Luke has two independently released solo albums; 'Living In The Now' (2011) and '3 Suites' (2013). He is currently Artist In Residence at The Kimmel Center For The Performing Arts in Philadelphia, PA.
George Heid III began playing drums at the age of 3. He grew up in his fathers recording studio in Aspinwall, PA where he was influenced by many music masters. Now, at age 27, George leads his own ensembles that have performed and toured extensively across the USA and in China at venues and festivals such as Dizzy's Club Coca-Cola (New York), JZ Club (Hangzhou), JZ Club (Shanghai), The Monterey Jazz Festival, Pittsburgh JazzLive, The Cleveland Jazz Festival and many more. 
George has had the honor of performing and/or recording with music greats such as Roger Humphries Sr., Sean Jones, Warren Wolf, Alton Merrell Jr., Clifford Barnes, Dan Wilson, Benny Benack III, Brett Williams, Theron Brown, Dwayne Dolphin, Henry Franklin Sr., David Budway, Maureen Budway, Jimmy Ponder, Jonathan Batiste, Paul Thompson, Jeff Grubbs, Ralph Lalama, Essiet Essiet, Cameron Brown, Bill Heid and Perry Hughes.